GOTO Altay travel agency participated in the world's largest tourism exhibition ITB-2012 held in Messe Berlin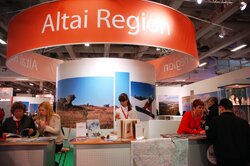 This year's exhibition featured the latest trends, current opportunities of the international tourism industry and the most significant travel brands around the world.

The exhibition was held from 7 to March 11, 2012. Annual Exhibition ITB Berlin is the largest international event in the tourism industry, during which various workshops, seminars, meetings with experts, round table discussions to the press, the exposure of travel agencies, hotel chains, airlines and delegations took place. In addition, the Fair ITB Berlin has a reputation for driving force for the travel industry. This year Messe Berlin (organizer and venue of the exhibition) have met about 11 thousand companies and organizations and participants from 187 countries for which 26 rooms on the floors of Berlin Exhibition Grounds were opened.

Russian companies were represented in the hall 2.1. The Russian stand was actively represented by the Altay Region. The delegation of the Altay headed by the Deputy Governor and Head of the economy and investments of the Altay Mikhail Shchetinin also participates in the international tourism fair ITB-2012.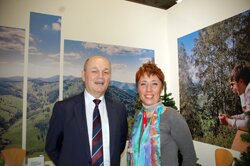 The delegation included representatives from the Altay regional tourism associations, travel agencies and art studios, pharmaceutical companies and health resort facilities of the region.

We are proud to announce that our travel agency "GOTO Altay" was a member of the delegation of Altay region. CEO Elena Voytenko shares her impressions about the exhibition: "We are participating as exhibitors for the first time and, I would say, quite succesful. Altay is a new region for travelling, but very attractive among tourists seeking new directions and, which is more important, another level of emotions. It is not that when you easily get comfort in a 3-star hotel somewhere in Egyptian or Turkey beaches. It is something of another kind - true, wild and challenging. Such kind of travelers were quite frequent guests at our stand, I would say. The most active people were from Germany, Poland, Turkey and Switzerland. And Russians are still continuing to discover the remoted parts of the vast Russian country as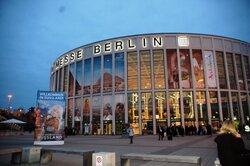 our Altay".
Information about the ITB
ITB exhibition is organized in the following sectors: tourism, travel, guides, books, maps, beach holidays, sea and river cruises, tour operators, international association of tourism, booking systems, carriers, hotels, travel agencies, software, information technology and tourism services. One of the key topics was the theme cruises, as well as the development of the tourism market in the Arab world. In 2012, the partner country of ITB Berlin was Egypt, which held the opening ceremony of the exhibition.